The Patrick and Catherine Weldon Donaghue Medical Research Foundation provides grants for medical research of practical benefit. It focuses on initiatives to strengthen research on health issues, promote research leadership, and put new knowledge to work for public benefit. The Donaghue Foundation was established in 1991 by the will of Ethel Donaghue in memory of her parents. Learn more
See important dates in medical science and health care, the lives of the Donaghue family, and the Donaghue Foundation. See Timeline
Donaghue provides grants for rigorous medical and health-related research that promotes knowledge of practical benefit through its own programs and through several collaborative funding partnerships. Read More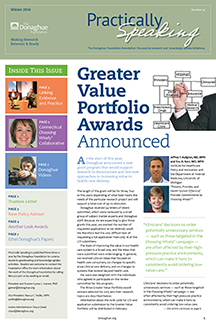 The Winter 2016 Issue of the Donaghue Foundation's newsletter Practically Speaking is now available. The issue features the 2015 Greater Value Portfolio Awardees and Another Look Awardees as well as stories on the Connecticut Choosing Wisely® Collaborative, Linking Evidence and Practice Portfolio, the Trustees Letter, and more.
The Practically Speaking newsletter is published three times a year. You can find past issues here.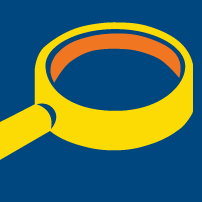 The Donaghue Foundation is pleased to announce the fourth cycle of  Another Look: Better Health for Elders in Care Facilities is now open.  Letters of Intent are due by February 29th, 2016.
Click here to read the full grant announcement