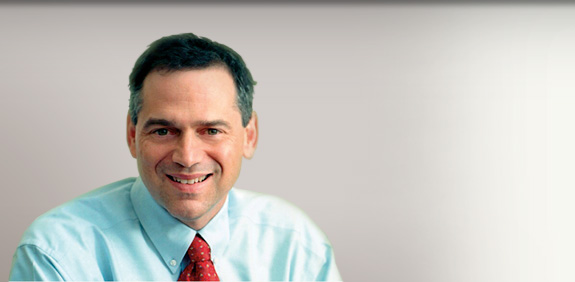 Harlan Krumholz
Harlan Krumholz, MD and the Donaghue Foundation go way back. In 1994, Donaghue's third year of grant making, he applied for and received a grant through the Clinical and Community Health Issues program. After that grant ended, Krumholz, who serves as the Harold H. Hines Professor of Medicine (Cardiology) and Professor of Investigative Medicine and of Public Policy (Health Policy) at Yale School of Medicine, has been a scientific and policy adviser for the Foundation.
Krumholz leads a team of 20 other clinical investigators in a project of "Hospitalomics" funded by Donaghue's Program for Research Leadership.  The work done within the grant will develop and refine a scientific process to describe complex patterns of hospital care and determine the relationship between these patterns and performance. Through understanding these relationships, future research will identify interventions to improve outcomes for patients at more sustainable costs. Premier, Inc – a healthcare alliance serving more than 2,500 hospitals and 80,000 other healthcare sites – provides the database and the test bed for the work done on this project, and two of Premier's senior managers are a part of Krumholz's team. This link between researcher and those who may eventual use the new knowledge is one way to accelerate the benefit that can come from research.
Krumholz is a member of the Patient-Centered Outcomes Research Institute (PCORI) Board of Governors. Although his research often deals with health care from a system perspective, he is known for working to "put patients as the true north" in both his clinical and research work.