Two New Policy Advisers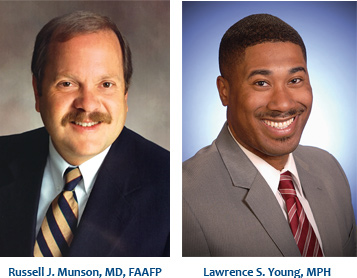 At the beginning of most years, Donaghue welcomes new policy advisers to start a four-year term.
The purpose of Donaghue's Policy Advisory Committee is to have a standing group of individuals from various perspectives related to health care, philanthropy, or medical research to consider policy and program issues that are before the Foundation. This is strictly a policy advisory committee — it doesn't review grant applications and it doesn't vote on any action for the Foundation to take. However, our PAC members are an extremely helpful addition to the discussion of the many issues that the Foundation must consider.
We are pleased to have the following two individuals join the committee:
Russell J. Munson, MD, FAAFP
Dr. Munson spent 20 years as a family physician before pursuing a physician executive career focused on population health and the triple aim. This included positions at hospitals and health insurance companies in Connecticut and Massachusetts.
Lawrence S. Young, MPH
Lawrence Young is a Health Equity Associate with the Curtis D. Robinson Center for Health Equity at Saint Francis Hospital. Much of his work is focused on improving outcomes for community members who have limited access to adequate healthcare. Lawrence also leads the planning of the center's annual town hall meeting on health disparities, supervises all research initiatives in the community health department, and supports other hospital programs that seek to promote better health. He is also is a graduate of the Connecticut Health Foundation's Health Leadership Fellows Program.