Another Look Grant Program 2018 Awards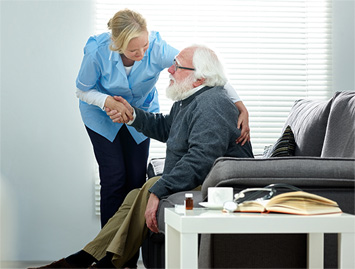 Five awards for a total of $646,235 were made from the Another Look – Better Health for Elders grant program this summer.
Five awards for a total of $646,235 were made from the Another Look – Better Health for Elders grant program this summer. Another Look was established to provide funding for research projects that can improve the quality of care for the elderly population in nursing homes or other care facilities. Researchers must use data that already exists for their study. In addition, researchers applying for this grant must identify a stakeholder in the care delivery or policy arena with whom they will either consult or collaborate and who is willing to work with the researcher to develop a research product that may be readily used to improve care. Since it was established in 2013, the Another Look program has funded nearly $4 million for 30 studies that seek to improve the health and quality of life of elders in care facilities.
Paula Carder, PhD
Portland State University
"Measuring Quality through Complaints and Inspections Data"
Stakeholder Organization: Oregon Department of Health Services
The objective of the proposed study is to understand the relationship between community and resident characteristics, consumer complaints, regulatory violations, and resident health outcomes. The findings will inform ongoing efforts by the stakeholder organization, Oregon Department of Human Services, to improve the safety and quality of care provided by facilities and provide a model for national efforts to use administrative records to identify prevalence of critical incidents, including abuse, among Medicaid beneficiaries. The study team combines administrative data, including complaints and regulatory deficiencies, with data from our own annual assisted living and residential care surveys. Analysis of the combined data set will also assess differences in substantiated complaints or inspection findings by facility characteristics such as ownership, location, staffing level, Medicaid, and dementia care certification. This project has the potential to improve the health and safety of assisted living and residential care residents in Oregon. Recent organizational planning at Oregon Department of Human Services identified a need for information on risk factors associated with consumer dissatisfaction, rule violations, and health outcomes. Because Oregon's community-based care system is a national model, this project can inform other states' oversight and quality improvement efforts.
Verena R. Cimarolli, PhD
The New Jewish Home
"A Geriatric Substance Abuse Recovery Program"
Stakeholder Organization: LeadingAge
To meet the urgent need of treating substance abuse in older adults, the New Jewish Home created a Geriatric Substance Abuse Recovery Program (GSARP) for post-acute care patients within its skilled nursing facility. The GSARP integrates medical rehabilitation and substance abuse recovery services. This 18-month study will entail further analyses of medical record data of patients who were program participants and those who refused participation. A primary goal is to determine the impact of GSARP participation on rehabilitation outcomes. Another goal is to identify factors associated with program refusal. Guided by the Andersen Behavioral Model of Health Services Use, the analysis will determine if GSARP participants have better post-acute care outcomes when compared to refusers and which GSRAP components are most beneficial to participants; identify individual characteristics and health behaviors associated with successful PAC outcomes; and identify individual characteristics associated with program participation and refusal. Study findings will reveal the effects of GSARPs for rehabilitation outcomes and inform how to best engage patients in skilled nursing facilities who are in need of substance abuse treatment services in GSARPs. Clinicians and therapists in post-acute care units of skilled nursing facilities are the intended users of the findings from this research.
Lara Dhingra, PhD
Metropolitan Jewish Health System
Institute for Innovation in Palliative Care
"Race, Ethnicity and Pressure Ulcers in Nursing Homes"
Stakeholder Organization: LeadingAge New York
Prior studies suggest that pressure ulcer‐related outcomes are characterized by racial and ethnic disparities; for example, blacks have nearly twice the prevalence of PUs than whites. Studies of these disparities are very limited, however. The data reported are 10‐15 years old, do not evaluate diverse racial/ethnic backgrounds, and neglect the importance of co-morbid pain and variables that may explain disparities, such as nursing home size and community poverty characteristics. Additional studies are needed to evaluate the nature of racial/ethnic disparities and explore their effects relative to significant clinical and nursing home characteristics. The study will analyze the 2015 and 2016 Long Term Care Minimum Data Set Version 3.0 for 3.2 million nursing home residents to evaluate the associations between race/ethnicity and pressure ulcer‐related outcomes, including prevalence, change over time, and co-morbid pain and analgesic use. We will determine whether race/ethnicity is an independent predictor of pressure ulcer‐related outcomes in nursing homes when controlling for a broad array of potential covariates, such as nursing home size, staffing, and location. The team of researchers, clinicians and community leaders will disseminate our findings and jointly develop and deliver a continuing education webinar about best practices for pressure ulcer prevention and care, with implications for nursing homes nationally.
Gayle Doll, PhD and Maggie Syme, PhD
Center on Aging and Geriatrics, Kansas State University
"Resident and Institutional Outcomes of Person Centered Care: A Longitudinal Evaluation of the Promoting Excellent Alternative in Kansas Nursing Homes"
Stakeholder Organization: Kansas Department for Aging and Disability Services
Promoting Excellent Alternative in Kansas nursing homes (PEAK 2.0) is a statewide pay-for-performance program that provides an unparalleled opportunity to conduct an outcome evaluation of a standardized person-centered care (PCC) program with increasing levels of PCC adoption, which has shown promising preliminary resident outcomes. We propose to evaluate whether increased adoption of PCC practices — via participation in the PEAK 2.0 program — impacts resident health outcomes, resident quality of life outcomes, and facility outcomes.
This project will analyze longitudinal data during PEAK 2.0 years 2014 to 2019. The source population is residents from all certified Kansas nursing homes in order to compare non-adopters to PCC adopters across levels. Data will be merged from three different sources: the Minimum Data Set 3.0, Online Survey, Certification and Reporting (OSCAR), and the state agency's resident quality of life data. The results will directly inform PCC implementation statewide and affect near- and long-term resident wellbeing, with the potential to translate findings to other practice jurisdictions.
Lindsay Peterson, PhD
School of Aging Studies, South Florida University
"Finding the Consumer's Voice: Nursing home complaints"
Stakeholder Organization: The National Consumer Voice for Quality Long-Term Care
Complaints are considered a unique indicator of the voice of the consumer. While complaint data are incorporated into the Nursing Home Compare Five-Star rating, the government does not explain the role of complaints in ratings or what complaint scores may signify. The proposed research will examine complaint and other data used in the Five-Star rating, with a larger goal of helping to identify and amplify the consumer's voice to provide additional quality information. A key Five-Star component, the health inspection score, is based on deficiency citations resulting from annual recertification surveys, and complaint inspections. The project will examine whether there are differences between the information contained in these two sources. First, total complaints (including unsubstantiated complaints not used in Five-Star calculations) will be examined and an estimate will be made of the nursing home characteristics that predict higher numbers. Then the study will compare the numbers of total complaints with numbers of substantiated complaints and estimate factors that predict substantiated complaints to determine if they are different from factors predicting unsubstantiated complaints. Finally, differences between the two health inspection elements — deficiency scores from recertification surveys and complaint inspections — will be compared. These analyses could aid in the Five-Star system's refinement and help consumer advocates explain the significance of complaints. Results could help nursing homes understand more about complaints, quality, and effective grievance practices.