Donaghue Investigators: An Update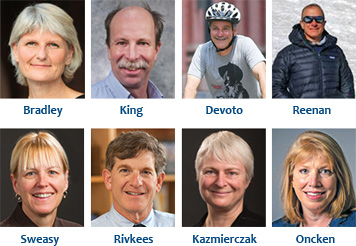 The Donaghue Investigator program provided over $16 million to 27 medical researchers holding faculty appointments at Connecticut institutions between 1998 and 2012. Goals of the program included supporting the overall work of the researcher rather than a single research project, funding research in a broad array of medical research fields, and looking for the potential for practical benefit to improve health high on the list of priorities for selecting awardees. This is the fourth in a series of articles to revisit the Donaghue Investigator program. We asked each of our grantees to share with us some highlights from their current work, and here is what eight of them had to say.
2002
Elizabeth H. Bradley, PhD, MBA
President, Vassar College
"Quality Improvement Efforts in the Care of Older Adults"
My recent research focused in two areas — the role of social services in promoting health outcomes and the role of leadership in reducing risk-adjusted mortality rates in hospitals. The research resulted in the book, The American Health Care Paradox: Why Spending More Is Getting Us Less, published with my collaborator Lauren Taylor, and several peer-reviewed papers pertaining to the project, Leadership Saves Lives, a two-year in-depth study led by Leslie Curry, also a Donaghue Foundation researcher. I use the fruits of this research everyday as the President of Vassar College. At Vassar, we are committed to providing the highest quality liberal arts education in a diverse and inclusive community, and to demonstrating the relevance and positive influence of the liberal arts in society. Whether I am working on issues of social inclusion and free speech, mental health among young adults, or the role of colleges in their communities — I am reminded often of the broader social context of our work and the critical role of inclusive leadership in all that we do.
2000
Stephen M. King, PhD
Professor of Molecular Biology and Biophysics, University of Connecticut School of Medicine
"Intracellular Transport and the Regulation of Molecular Motor-Cargo Interactions"
The Donaghue Investigator award I received in 2000 was extraordinarily helpful in allowing me to broaden our study of molecular motor proteins called dyneins that are required for the assembly and motility of organelles termed cilia. Correct functioning of these structures which act as both signaling and motile organelles (moving either individual cells or extracellular fluid) has enormous consequences for human development; defects lead to a broad array of sometimes devastating disorders collectively termed ciliopathies that include phenotypes such as brain and skeletal malformations, blindness, obesity and insulin resistance. I have been able to make considerable strides in determining how these very complex dynein motor proteins are assembled in cytoplasm of cells, transported into the growing cilium and then docked at very precise sites to allow for ciliary beating. Furthermore, over the last several years I have become very interested in the role of an enzyme needed for generating bioactive signaling peptides, such as oxytocin and vasopressin, both in building cilia and in secreting signaling molecules through these organelles. I believe we may have uncovered a previously unappreciated route by which cells release bioactive compounds involved in long-range intercellular communication.
1998
Steven Devoto, PhD
Professor of Biology
Wesleyan University
"Muscle Cell Development in Zebra Fish"
In my 1998 Investigator Award application, I proposed research on the development of muscle fiber types (slow twitch and fast twitch), using zebrafish as a model. My research has expanded in two new directions since — we now study the development of muscle stem cells and the development of the spine. The stem cell work is a direct outcome of the freedom that Donaghue funding gave — we could initiate a speculative project on muscle growth, one that ultimately identified the first gene regulatory network required for development of embryonic muscle stem cells in the animal. Indirectly, it led us to use zebrafish as a model for studying the development of the spine, because those same genes are also implicated in congenital spine diseases, including scoliosis. The Donaghue Investigator award allowed me to follow this unusual path, from muscle fiber type to spine development, and new funding has allowed it to continue.
2001
Robert Reenan, PhD
Professor of Biology
Brown University
"Neurogenetics of Ion Channel Function and Dysfunction"
I was fortunate enough to receive a Donaghue Investigator Award at a time when my laboratory, then at UCONN Health Center, was interested in following novel aspects of our basic science work that related to neurodegenerative diseases, such as Alzheimer's Disease and ALS. Fifteen years later, we are modeling these diseases and identifying genes that can reverse the genetic causes of neuronal cell death in the brain. The approaches we are pursuing today were encouraged greatly in my early career by funding through the Donaghue Foundation. Instrumental in that gift was the unrestricted nature of the funding which allowed us to pursue novel and high risk lines of experimentation that led to some of the avenues we pursue today, which we believe are leading to potential avenues to therapy for debilitating neurological disorders.
1999
Joann Balazs Sweasy, PhD
Professor of Therapeutic Radiology and Genetics
Yale University School of Medicine
"DNA polymerase beta and meiosis"
The Donaghue Award was instrumental in allowing us to initiate our studies of the role of the base excision repair in the process of meiosis. We developed and studied three different mouse models in which the repair of DNA is compromised and showed that loss of the function of base excision repair proteins impacted fertility in the mice. This was a surprising result and was the first to indicate that proteins that function in base excision repair are also important for meiosis. Our subsequent studies demonstrated that these proteins have important functions during the initial and later phases of meiosis. This body of research led us to characterize more recently crosstalk between the many DNA repair pathways in the cell and to the surprising discovery that loss of the ability to repair DNA in specific circumstances can result in the development of lupus, both in mice and humans. Our work has broad implications for understanding underlying mechanisms of autoimmune disease and for the discovery of potential novel therapies for lupus. Without the Donaghue award we would not have been able to initiate any of this work.
1999
Scott Rivkees, MD
Nemours Eminent Scholar
Professor and Chair, Department of Pediatrics, University of Florida,
"Prevention of brain injury in premature infants"
I am Professor and Chair of the Department of Pediatrics at the University of Florida and Physician-in-Chief of Shands Children's Hospital. Before moving to Florida, I was Professor with tenure at Yale University, Associate Chair for Research, and directed the Yale Pediatric Thyroid Center. I've been named "One of America's Best Doctors," "One of America's Top Pediatricians," and "One of New York's Best Doctors." I'm a member of American Society for Clinical Investigation, the Connecticut Academy of Science, and Fellow of the American Academy for the Advancement of Science. I was the recent recipient of the Pioneer Award from CARES and the 2018 recipient of the American Thyroid Association, Paul A. Starr Award for contributions to the field of thyroidology. I've authored more than 300 articles, including original reports, chapters, editorials and books and have had continuous funding from the National Institutes of Health for 33 years. I'm currently Chair of the Board of Scientific Counselors for NICHD and am still pursuing the prevention of weight matter injury in premature infants, which is a project originally supported by the Donaghue Foundation.
2002
Barbara Kazmierczak, PhD, MD
Professor of Medicine and Director of MD-PhD Program
Yale University School of Medicine
"Role of epithelial cells in host defense vs. pathogens"
The Donaghue Investigator Award allowed us to initiate our studies of how the immune system "sees" bacteria during infection, using the opportunistic pathogen Pseudomonas aeruginosa as our model. This work contributed to the discovery of specific immune receptors that respond to bacterial "virulence", not just bacterial presence. We described how one such receptor, the NLRC4 inflammasome, sensed the Pseudomonas Type 3 secretion system responsible for injecting bacterial toxins into mammalian cells — and then we collaborated with other Yale investigators to show that a mysterious familial autoinflammatory disease was due to a mutation in NLRC4 that inappropriately "activated" this sensing pathway. My lab continues to study how bacteria interact with humans in health and disease. I'm most excited about our work examining how gut commensal bacteria affect disease severity in infants with the genetic disease Cystic Fibrosis. I hope our observations will guide the development and testing of strategies to improve these children's health in the near term.
2004
Cheryl Oncken, MD, MPH
Professor and Chair, Department of Medicine
University of Connecticut School of Medicine
"Maternal Genetics, Cigarette Smoking and Infant Birth Weight"
I am a Professor of Medicine and Obstetrics and Gynecology at UConn School of Medicine. I was appointed the Chair of Medicine, University of Connecticut School of Medicine in 2016. I conduct clinical research on the treatment of smoking in women including smoking cessation trials and innovative treatments for pregnant and postpartum women. I have been a member of the World Health Organization Committee establishing guidelines on the management of tobacco use and second-hand exposure during pregnancy and regularly serve on an NIH study section. The Donaghue Award allowed me to examine genetics in relation to tobacco use. One interesting finding from this work was that we found a genetic vulnerability to menthol cigarette preference in women. Given that the FDA has regulatory authority of tobacco products, this finding may be important to better understand health disparities in mentholated product use, and inform future regulation of tobacco products.
In addition to the Donaghue Investigators in this and previous articles, the other awardees include:
Zeev Kain, MD, MBA
Chancellor's Professor and Executive Director of Center on Stress and Health
University of California Irvine
Ishita Mukerji, PhD
Fisk Professor of Natural Science
Wesleyan University
Carol Pilbeam, PhD, MD
Professor of Medicine and Orthopedics,
Director of the MD/PhD combined program.
University of Connecticut School of Medicine