2017 Donaghue Annual Report and Journal Available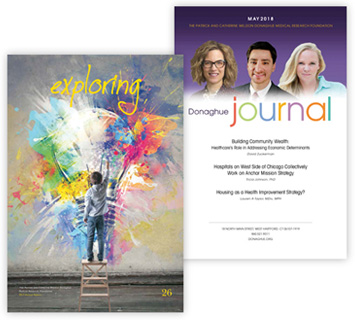 We hope you've seen the 2017 Donaghue annual report and its accompanying Donaghue Journal. If you haven't, you can check it out on the Donaghue website.
A new component of the report is the use of data visualizations to describe the four Greater Value Portfolio awards made during the year. We've also used data viz to summarize the research topics in the Another Look – Better Health for Elders program over the past five years.
For the second year, we've devoted a part of our annual report to an issue that is related to medical and health research. This year's Journal is devoted to anchor missions – the concept that an institution has the obligation to improve the community in which it is anchored. Typical anchor institutions are healthcare systems and universities (the "meds" and "eds"). Healthcare systems have a particular opportunity and urgency to use their business operations and investments to improve the economic vitality of their patients' communities. Because poorer communities have a higher incidence of chronic diseases, tending to the social determinants of health is an effective way to reduce that health burden. Three experts on anchor missions and their contribution to improving population health share their ideas in the Donaghue Journal: David Zuckerman, Director of Healthcare Engagement at The Democracy Collaborative and the Healthcare Anchor Network, a national collaboration of more than 35 health systems; Tricia Johnson, PhD, an economist who studies the underlying drivers of costs and quality in the healthcare system and works with senior managers at Rush University Medical Center and other hospitals in the Chicago West Side to implement their anchor mission; and Lauren A. Taylor, co-author with Elizabeth H. Bradley of The American Health Care Paradox: Why Spending More is Getting Us Less.