Policy Advisory Committee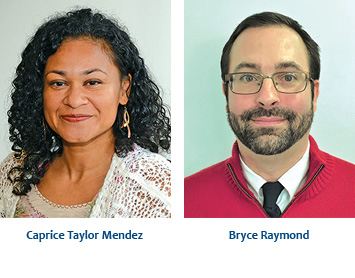 At the beginning of most years, Donaghue welcomes new policy advisers to start a four-year term. The purpose of Donaghue's Policy Advisory Committee is to have a standing group of individuals from various perspectives related to health care, philanthropy, or medical research to consider policy and program issues that are before the Foundation. This is strictly a policy advisory committee — it doesn't review grant applications and it doesn't vote on any action for the Foundation to take. However, our PAC members are an extremely helpful addition to the discussion of the many issues that the Foundation must consider. We are pleased to have the following two individuals join the committee:
Caprice Taylor Mendez
Caprice Taylor Mendez is the Strategic Program Manager for The Community Foundation for Greater New Haven, where she leads the Foundation's Greater New Haven Vote and US Census Count civic engagement initiatives with over 18 nonprofit partners, the strategic grant making for the Immigration Integration and Criminal Justice Reform strategies, while supporting the Progreso Latino Fund. With over 20 years in policy advocacy, community organizing and leading initiatives and nonprofits nationally, internationally and in Massachusetts, Caprice has also recently begun as a Professor at Gateway Community College in her childhood town of New Haven.
Bryce Raymond
Bryce Raymond is one of the Principals of PASI, LLC., which is located in Farmington, CT. Bryce along with his team assist small businesses and nonprofits on their retirement plan administration; help them to remain in compliance; and to meet the goals for the employees, trustees, and small business owners.